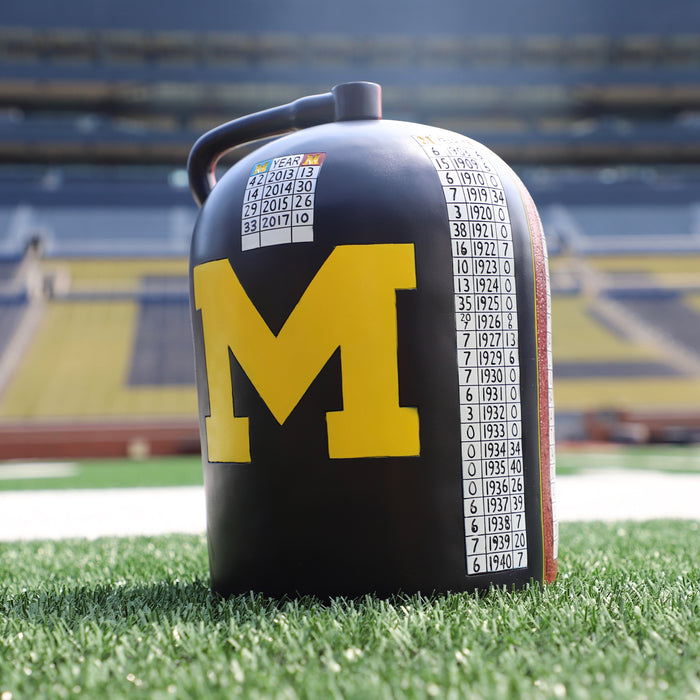 Little Brown Jug Trophy
Sold out
Original price
$110.00
-
Original price
$110.00
The Little Brown Jug was originally purchased by Michigan prior to their 1903 contest against Minnesota out of fear that the host Gophers wouldn't provide clean drinking water. The Jug didn't become a traveling trophy until 1909, still qualifying it as the oldest such trophy in major college football. Adorned with scores from every game for over a century of Big Ten gridiron action, The Brown Jug is neither little nor brown. This thirty cent purchase from a Minnesota general store is, however, recognized beyond Big Ten borders as a symbol of the conference's unmatched tradition.
This Brown Jug stands 12 inches, and has a diameter of 8 1/2 inches. It weighs about 5 lbs. This edition of the Brown Jug will include all scores through 2017, as we produced more prior to last year's game. An ultra fine point sharpie works best to enter the 2020 score: Michigan 49 and Minnesota 24.
Please note that The Little Brown Jug is one trophy that is "divided" with half displaying the Michigan Block M and the other displaying the Minnesota block M. 

We are currently sold out of these Little Brown Jugs. The actual jug is out of space, and we are waiting on word from Michigan and Minnesota on where the new scores will be placed. Once we get word we'll be able to begin production. Thanks for your patience.