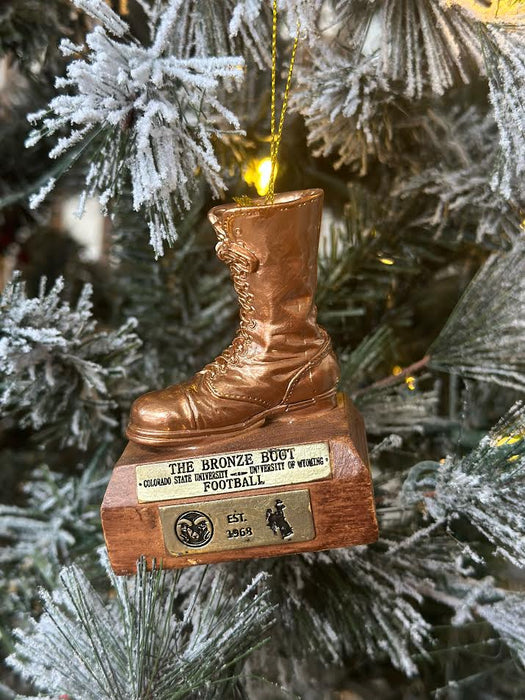 The Bronze Boot Mini
Original price
$20.00
-
Original price
$20.00
The Border War began when The University of Wyoming and Colorado State University first met on the gridiron in 1899, this annual contest is among the longest-played rivalry games in the country. However, it wasn't until 1968 that The Bronze Boot, the prize awarded to the winner of the game, was established. 
The size 8 jump boot was originally worn by Colorado State ROTC professor Capt. Dan J. Romero during his service in The Vietnam War from 1966-1967. It was encased in bronze, and mounted on a wooden base, and since 1968 has served as the symbol of the great rivalry and great ROTC detachments at each university. 
Each year members of the Colorado State and Wyoming ROTC detachments run a portion of the 66-mile distance on U.S. Highway 287 and meet at the Colorado and Wyoming border to exchange the game ball. And each year the winning team is quick to hoist and parade The Bronze Boot around the gridiron as a symbol of two great universities, football programs, and ROTC programs. 
We're honored to offer our replica as an opportunity for fans and alums to celebrate one of college football's greatest rivalries and traditions. Our min Bronze Boot replica checks in at 3 inches tall, 3 inches long, and 2 inches wide. It weighs 3.4 ounces.